Real-Time Property Damage Alerts:
Adjuster Alerts is a nationwide service providing real-time reports on fire damage and property damage to insurance adjusters and companies involved in private property restoration. Damage alerts are delivered to your pager or cell phone as incidents occur, providing critical information such as the incident type and location of each loss.
With Adjuster Alerts, you will receive alerts on property damage caused by weather and other natural disasters, flooding, fire and smoke damage, vehicle accidents and more. Alerts can be customized to fit your specific region and nationwide accounts are available for firms operating multiple offices throughout the United States.
See why Adjuster Alerts is the industry leader in real-time property damage alerts. Call us at (800) 313-5911, extension, 5 to activate your account today!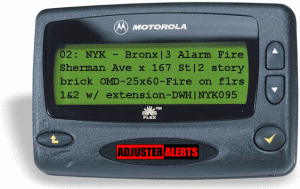 Timely and Useful Leads for Adjusters! Get Property Damage Leads to your text messaging device! House fire alerts, water damage and smoke damage leads, weather damage reports and more!